Honda CR-V Maintenance Schedule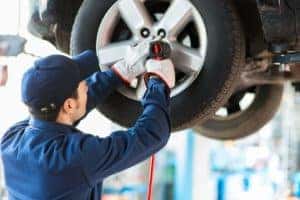 Making sure your Honda CR-V is properly maintained is the best thing you can do to preserve its exceptional performance. At Norm Reeves Honda Superstore Port Charlotte, we want to help every driver in North Port, Fort Myers, and Cape Coral get the most out of their vehicle. That's why our team has created this in-depth guide to the Honda CR-V maintenance schedule.
With this, you'll never forget to schedule routine maintenance for your vehicle ever again. So, check it out to understand what type of services, such as the Honda CR-V air filter change interval, your vehicle needs and when you should schedule a service appointment.
Every 7,500 Miles
To keep your Honda CR-V running smoothly, schedule a service appointment every 7,500 miles. During this routine service department visit, Honda technicians will change the engine oil and rotate the tires. They'll also inspect the following items to ensure everything under the hood is working properly:
Tie rod ends, steering gearbox, and boots
Driveshaft boots
Suspension components
Brake hoses and lines
Cooling system hoses and connections
Exhaust system
Fluid levels and conditions
Every 15,000 Miles
The 15,000-mile service appointment will include all the services listed above. Your Honda CR-V will also need its engine oil filter changed, its parking brake adjustment checked, and it's front and rear brakes inspected to uphold its performance.
Every 30,000 Miles
Every 30,000 miles, have the air cleaner element and spark plugs in your CR-V replaced. The valve clearance and the drive belts should also be inspected and adjusted if necessary during this service appointment.
Every 45,000 Miles
At every 45,000-mile interval, make sure your car gets all the services included for each appointment listed above. On top of that, replace the engine coolant and brake fluid to ensure dependable and long-lasting performance.
Additional Maintenance Items for the Honda CR-V
There are a few other services your vehicle will need throughout the course of its life that don't fall into the routine service appointments listed above. For example, you need to have the transmission fluid replaced every 90,000 miles. At 105,000 miles, it's important to have the idle speed and water pump inspected. You also need to makes sure the timing belt is replaced during this service appointment.
Maintenance Minder™
Maintenance Minder™ is included in every new Honda CR-V trim. This innovative feature can keep track of the vehicle's recommended service schedule and the condition of its performance parts. If you're due for your next automotive checkup, or if it detects a problem under the hood, the Maintenance Minder™ system in your Honda CR-V will display one of the following codes to help you understand exactly what your vehicle needs:
Main Code A: Replace engine oil.
Main Code B: Replace engine oil and filter.
Inspect front and rear brakes.
Inspect tie rod ends, steering gearbox, and boots.
Inspect suspension system.
Inspect driveshaft boots.
Inspect brake hoses and lines.
Inspect all fluid levels and conditions.
Inspect exhaust system.
Inspect fuel lines and connections.
Sub Code 1: Rotate tires and check tire condition and air pressure.
Sub Code 2: Change dust and pollen filter.
Inspect drive belt.
Sub Code 3: Change continuously variable transmission fluid.
Sub Code 4: Replace spark plugs.
Check valve clearance.
Sub Code 5: Replace engine coolant.
Sub Code 6: Replace rear differential fluid in models equipped with AWD (all-wheel drive).
Sub Code 7: Change brake fluid.
To keep your CR-V running as well as possible, schedule a service appointment as soon as you see any one of these codes pop up on your Multi-Information Display.
Schedule Your Service Appointment Now!
If you want your Honda CR-V to produce a dependable and long-lasting performance, follow its recommended maintenance schedule. Most importantly, don't wait to provide the care your vehicle needs. If your car requires routine maintenance, contact Norm Reeves Honda Superstore Port Charlotte near North Port, Fort Myers, and Cape Coral, and schedule your service appointment now!