2019 Honda CR-V vs Ford Escape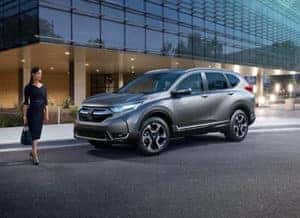 If you're looking for a sporty SUV, then there's no doubt you've considered the 2019 Honda CR-V or Ford Escape. Both leaders in the category of compact SUVs, it's no wonder why drivers in the Port Charlotte and Fort Myers areas have a hard time determining what sets these two vehicles apart.
To help, our team at Norm Reeves Honda Superstore Port Charlotte offers this educational vehicle comparison, reviewing the interior space, performance specs, and safety ratings for these two vehicles. That way, you can decide which one is right for you. To get started, let's take a closer look at passenger and cargo volume.
SUVs and Crossovers Contact UsRead Honda Reviews

Inside the Honda CR-V & Ford Escape
One of the key selling points of any SUV is the additional space you get over a sedan or coupe. The 2019 Honda CR-V, for example, offers 105.9 cubic feet of passenger volume, which is plenty of room for you and four friends. The Ford Escape, on the other hand, is limited to just 98.7 cubic feet.
The Honda CR-V also offers more headroom in both rows, and 3.1 inches of additional legroom in the second row. But one of the most striking differences between the Ford Escape and the Honda CR-V is cargo room.
The 2019 CR-V features a total of 75.8 cubic feet of cargo room with 39.2 cubic feet of that being behind the second row. Meanwhile, the Ford Escape has just 68 cubic feet of cargo room with only 34 cubic feet behind its second row.
Performance: Ford Escape vs Honda CR-V
The 2019 Honda CR-V and the Ford Escape both come standard with a 4-cylinder engine. In the CR-V, this engine generates 184 horsepower and 180 lb-ft of torque. Meanwhile, the Ford Escape is limited to just 168 horsepower and 170 lb-ft of torque. With more horsepower and torque, the Honda CR-V provides quick acceleration and a lively ride that makes merging or passing slower-moving traffic a breeze.
When it comes to transmission systems, the Escape features a standard 6-speed automatic. While this setup is definitely easier to operate than a manual transmission, it doesn't come close to the efficiency of the continuously variable transmission (CVT) of the 2019 CR-V. A CVT offers automatic gear shifts but is able to optimize performance and efficiency, giving you seamless shifting and improved fuel economy.
Interior Features & Technology
A major difference between the Honda CR-V vs. Ford Escape is the center display screen. The CR-V includes a 5-inch screen, while the Escape features a 4.2-inch screen. Both vehicles include a standard AM/FM radio, Bluetooth® streaming, and hands-free phone connection, and USB ports and auxiliary inputs for portable media players. However, the CR-V also includes Pandora® compatibility, which gives drivers access to stations featuring their favorite songs and artists.
Want to Learn More?
For more information about how the 2019 Honda CR-V compares to the Ford Escape, contact us at Norm Reeves Honda Superstore Port Charlotte. Proudly serving drivers from across the Port Charlotte and Fort Myers areas, we'll be happy to help you schedule a personal test drive to see the Honda CR-V for yourself. Contact us today.