2019 Honda HR-V vs Toyota RAV4
2019 Honda HR-V Inventory Schedule Test Drive

When cruising around the roads of Fort Myers and Port Charlotte, you want a car that has dependable performance along with the versatility to use your interior space for passengers and cargo. That is exactly what you will get with the 2019 Honda HR-V and the 2019 Toyota RAV4.
Then which model should you get? Our team here at Norm Reeves Honda Superstore Port Charlotte is here to help you decide by comparing the Honda HR-V vs. Toyota RAV4.
HR-V vs RAV4: Which is More Spacious?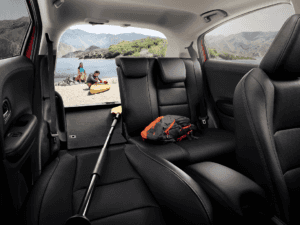 When looking for a new SUV, you are probably trying to get a vehicle that will give you a great deal of room inside for all your passengers. While both models have seating for five, they differ in the amount of room they will supply each seat with. This is because the 2019 HR-V has 100.1 cubic feet of passenger volume and the RAV4 has just 98.9 cubic feet of volume for passengers.
In the front, the Honda HR-V has 39.5 inches of headroom and 41.2 inches of legroom. Looking at the dimensions of the front-row seats of the 2019 Toyota RAV4, you will see it has slightly less room with only 37.7 inches of headroom and 41.0 inches of legroom.
When fitting more than just the kids in the back row, your passengers will have a more comfortable ride inside the 2019 Honda HR-V. Both vehicles supply a great deal of headroom to the second-row seats, but the HR-V has 39.3 inches of legroom in its back row. The rear row of the Toyota RAV4 comes with 37.8 inches of legroom.
Safety Ratings of the Honda HR-V vs Toyota RAV4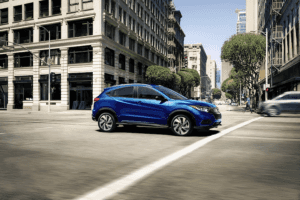 There are a lot of similar features and aspects of their designs that make both cars safe vehicles to drive. This includes brake assist, traction control and stability control systems, and LED daytime running lights.
They each have a rearview camera to help guide you as you are backing up. The Multi-Angle Rearview Camera in the 2019 HR-V comes with a normal, top-down, and wide-angle view to give you an even better look at your surroundings.
When the safety systems and overall design of the car are put to the test, it is the HR-V that scores better than the RAV4. Credited by the Insurance Institute for Highway Safety, the 2019 Honda HR-V's EX, EX-L, and Touring trim levels are the IIHS 2019 TOP SAFETY PICK.
Connecting to Your Device
In either car, you can stream audio from your smartphone to listen to your favorite music or podcast while driving thanks to Bluetooth® technology. This will also let you use your phone hands-free to make and receive phone calls.
The 2019 HR-V also has available Apple CarPlay™ and Android Auto™ to give you even more use of your smartphone while driving. This will let you bring up your maps to get directions to your destination, send text messages, and use a variety of other applications that are on your smartphone.
The 2019 RAV4 also has Apple CarPlay™, but it doesn't offer Android Auto™. This means if you have an Android™ device, you won't have the same abilities for an enjoyable and convenient ride in the RAV4 as you would in the Honda HR-V.
Deciding Between the Honda HR-V vs Toyota RAV4
In this comparison of the HR-V vs. RAV4, you now can see which model has more space for you and your passengers, is rated better in terms of safety, and gives you more personalized connection for a fun ride.
With all these advantages the 2019 Honda HR-V comes with, it might be time for you to start looking to get one for your commute around Fort Myers and Port Charlotte. Stop on by Norm Reeves Honda Superstore Port Charlotte today to learn more about our inventory of 2019 HR-V models and schedule a test drive of this SUV!