Tire Service and Repair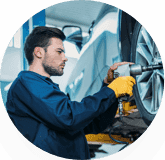 To properly repair any problems you're experiencing with your vehicle, you must take it to a professional service center. The right service center is important because you want a group of trained professionals working on your car who know exactly what they're doing. Fortunately, residents of Fort Myers, Sarasota, and North Port can find tire services in Port Charlotte at Port Charlotte Honda.
The service center at Port Charlotte Honda is dedicated to repairing your vehicle and restoring it to its full potential. With our staff of educated service technicians, we can expertly diagnose your vehicle issues, complete our repairs, and return your vehicle to you in a timely manner.
We know how important your car is to you and your day-to-day routine, which is why we handle each repair with the care it deserves. No matter if your car needs an oil change, a taillight fixed, or a brand-new transmission, we're prepared for any of your repair needs.
Your tires are one of the most important parts of your vehicle. To achieve optimal safety, fuel efficiency, and mileage, your tires need to be properly maintained, but this goes far beyond just changing your tires. To make sure your tires are working at their most efficient level, the service center at Port Charlotte Honda can perform several tire services.
Tire Rotation
A tire rotation is the best way to ensure your tires are wearing down evenly so they last longer. Without tire rotations, your tires will wear unevenly, resulting in frequent tire replacements that will end up costing you more money in the long run. Your owner's manual should have a specific timeline for getting tire rotations, but it's usually about every six months.
Tire Balancing
Potholes, sharp turns over curbs, or just general driving wear and tear can put your tires out of balance. When your tires are out of balance, one or more wheels are heavier than the others. This leads to uneven rotations causing the treads of your tires to lose their grip and vibrate or wobble when you're driving. Tire balancing is an easy process that consists of weights being added to your tires to ensure consistent tire rotation, giving you a smooth ride.
Tire Repair
Flat tire? We can change your tire for you. Small puncture in your tire? We can patch it. Retreading? No problem. All of your general tire repairs can be handled by the service center at Port Charlotte Honda.
When residents of Fort Myers, Sarasota, and North Port need their tires serviced, they come to the service center at Port Charlotte Honda for expert attention. We know tires and exactly how to fix them and make sure they're giving you the best performance possible.
Along with our tire services, we offer numerous maintenance services that your vehicle may need. To make sure they're handled properly, bring your vehicle to Port Charlotte Honda. You can schedule your next service appointment with us online.