Honda Civic vs Toyota Corolla

When you're contemplating your next compact sedan, you might be torn between the Honda Civic vs. Toyota Corolla. Considering their respective popularity, performance, and reliability, they're generally the top choices for drivers near Port Charlotte, Venice, Punta Gorda, and North Port.
When it's time to pick your next vehicle, which will you choose?
At Norm Reeves Honda Superstore Port Charlotte, we're going to delve in and explore the similarities and differences between the Honda Civic vs. Toyota Corolla to show you what they offer. Pretty soon, you'll have a good idea which of these compact sedans fit your style and needs. Schedule a test drive today.
---
Engine Specs & Performance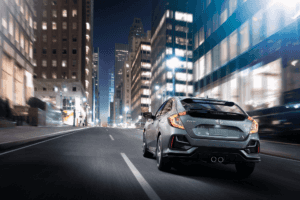 Despite their similar size and style, the differences are readily apparent when you look under each car's hood. The Honda Civic is outfitted with a base 2L 4-cylinder engine capable of producing 158 horsepower and 138 lb-ft of torque. This modest but peppy engine is sure to add some excitement to your daily drives!
The Toyota Corolla comes outfitted with a base 1.8L 4-cylinder engine that boasts 139 horsepower and 126 lb-ft of torque, falling slightly behind the Civic in output. Each vehicle includes a continuously variable transmission that provides smooth and direct gear transitions while aiding their efficiency.
These outputs are just in the base trim levels, however. Each sedan offers engine upgrades that yield more power for a punchier performance.
The Corolla fairs a bit better when equipped with its available 2L 4-Cylinder. With this outfit, it churns up 169 hp and 151 lb-ft of torque. This is a better showing, but unfortunately, it still falls short of the competitor's top engine offering.
The optional in-line 4-cylinder comes with a turbocharger, so the Civic produces 174 HP and 162 lb-ft of torque. This energetic option proves that this Honda sedan provides more muscle from top to bottom than its Toyota counterpart.
School Your Driving Practices for Better MPG With the Civic
The Civic isn't one of those cars that's all brawn and no brains. It's a smart, tech-enabled model that aims to teach you how to drive more efficiently—all so you manage the best MPG this car can yield!
The Eco Assist System™ is offered in all trim levels of the Civic. It provides driving stats to the driver through the Driver Feedback System, so you know when your maneuvering negatively impacts efficiency. It also provides an ECON mode to aid in your more fuel-conscious efforts.
While the Toyota Corolla does offer an ECO mode in some of its trim levels, it doesn't offer anything like the Eco Assist System™ to help you save MPG.
---
Media & Technology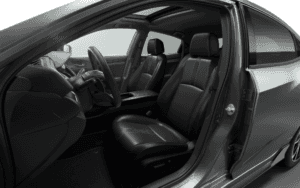 Each vehicle comes outfitted with intuitive dashboard-mounted displays that drivers can use to select their media for the ride. Both the Civic and Corolla are outfitted with AM/FM radios, USB and auxiliary inputs, and Bluetooth® for hands-free phone connectivity and even audio streaming.
Additionally, the Honda Civic comes equipped with Speed-Sensitive Volume Compensation. This feature—which is not available in the Toyota Corolla—recognizes loud engine performance, and will actively adjust the volume to compensate for the noise. This way, you can continue to enjoy your audio entertainment uninterrupted while heading to your destination.
By tamping down on road noise, the Civic creates a quiet and more Zen atmosphere. If you're someone with long commutes who likes to decompress in the car before or after work with a favorite podcast or audiobook, the technology in this sedan makes it easy—especially since you can easily integrate your phone with available Apple CarPlay™ and Android Auto™.
Apple CarPlay™ and Android Auto™ are available in the Corolla as well, so you can integrate your phone. However, you may have a noisier ride on your hands that pops that much-needed Zen bubble.
---
Honda Civic vs Toyota Corolla: Safety Features
The Civic comes standard with Honda Sensing®, while the Corolla is equipped with Toyota Safety Sense™ 2.0. These respective driver-assisting technology systems incorporate a few features that work along with exterior-mounted sensors. They can predict collisions or mishaps by factoring in the vehicle's rate of approach and proximity to objects/vehicles.
The Civic includes both Forward Collision Warning and Collision Mitigation Braking System™ (CMBS™), while the Corolla features the Pre-Collision System with Pedestrian Detection. Each vehicle also includes Automatic High Beams, Lane Departure Warning systems, and even respective adaptive cruise control systems that will automatically reduce speed to adjust to the flow of traffic without needing driver intervention.
Changing Lanes with Peace of Mind
The Civic offers an exclusive feature that the competitor does not, however. Available Honda LaneWatch™ is the perfect addition when navigating busy highways or even when parallel parking. It's almost like having a second pair of eyes in the car!
This feature mounts a small camera on the passenger-side mirror. When you signal right to change lanes, or perhaps when signaling to pull into a parking spot on the street, a real-time camera feed is displayed on the central touchscreen. This way, you can see what's behind and around the car.
The Toyota Corolla does offer an available Blind Spot Monitor. However, it's not quite as comprehensive as Honda LaneWatch™ and its live camera feed. This may make it more difficult to change lanes on the highway during your daily commutes.
---
Deciding Between the Honda Civic vs Toyota Corolla
Now that you're more aware of what the Honda Civic vs. Toyota Corolla has to offer, as well as how they differ, you're much closer to making your decision.
Each compact sedan brings a lot to the table, but the Civic offers just a bit more. Why not get a stronger sense of the Civic by dropping by and seeing it up close at Norm Reeves Honda Superstore Port Charlotte? You can really tell how you feel from behind the wheel!
Schedule your Honda Civic test drive with us at Norm Reeves Honda Superstore Port Charlotte! We're here and happy to help drivers throughout the Port Charlotte, Venice, Punta Gorda, and North Port, areas, when it's time to find their next car!