Honda CR-V vs Nissan Rogue

When you're looking to add some cabin space and an agile performance to your experiences on the Fort Myers and Port Charlotte streets, you may be considering the 2019 Honda CR-V vs. Nissan Rogue. Both of these midsize SUVs offer a lot to their respective drivers. But when you're ready to decide, which one do you choose?
At Norm Reeves Honda Superstore Port Charlotte, we're here to assist drivers in the tough decision of the CR-V vs. Rogue. This comparison will highlight the similarities and showcase their differences so you can see what they offer or lack. Keep reading to find out which car is right for you!
View Inventory Contact UsCR-V Specials
Honda CR-V vs Nissan Rogue Engine Specs & Performance
Underneath the hood, there are some subtle similarities between the Rogue and CR-V. The 2019 Honda CR-V includes a 2.4-liter 4-cylinder engine that's capable of producing 184 horsepower. The Rogue, on the other hand, includes a 2.5-liter 4-cylinder engine that delivers 170 horsepower. While these vehicles do differ in output, they each come fitted with respective Continuously Variable Transmissions which provide smoother accelerations and more efficient gear transitions which aids the fuel economies.
Cabin Dimensions & Cargo Space
A major component that these vehicles add to the driving experience is a spacious cabin. They come close in space, but the Honda CR-V offers 0.1 more cubic feet in space. Each midsize SUV can accommodate five passengers in the cabin. While the CR-V does offer more space for the passengers, it's clearly noticeable in the second row with 40.4 inches of legroom, while the Rogue only offers 37.9 inches of rear legroom.
Each midsize SUV offers cargo space behind the rear seats, with about 39 cubic feet for your materials and luggage. Both vehicles include the 60/40 split rear bench, which allows you to partially fold or completely fold the rear seats to make room for more cargo. When the rear seats are folded flat, the 2019 CR-V offers 105.9 cubic feet while the Rogue offers a little bit less space at 105.8 cubic feet.
Features & Technology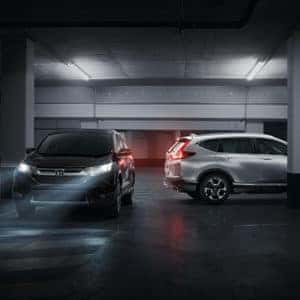 The 2019 Honda CR-V and Nissan Rogue each include respective dashboard-mounted display screens that can be used to access the media options. Each midsize SUV includes AM/FM radios, USB and auxiliary inputs, and Bluetooth® connectivity for both phone calls and audio streaming. The Honda CR-V also includes Pandora® compatibility, which provides access to thousands of customizable internet radio stations that you can listen to from the road.
Like what you see? Check out the full 2019 Honda CR-V review!
Deciding Between the 2019 Honda CR-V vs Nissan Rogue
At Norm Reeves Honda Superstore Port Charlotte, we hope that this CR-V vs. Rogue comparison helped you get a stronger sense of these two midsize SUVs. While you've learned all about what these respective vehicles offer, you also saw that the Honda CR-V has some notable advantages with its performance, its cabin space, and its features. Why not take the next step and come by for a closer look or experience the vehicle in a test drive?
Schedule your test drive with us at Norm Reeves Honda Superstore Port Charlotte! We're happy to assist drivers in Fort Myers and Port Charlotte for when it's time to decide on their next car.