Support Local Businesses: Fort Myers Brewing Company
What started as a small tasting room with a few beers on draft, Fort Myers Brewing Company has expanded into one of Florida's biggest and best breweries. It's all due to the great-tasting beer that the team at Fort Myers Brewing Company is constantly creating.
Also beyond that, the success of the brewery is rooted in their sense of community. This is felt when you hang out at their brewery, which provides a go-to space where locals and those visiting the area can enjoy some great beer and equally great times!
The Brewery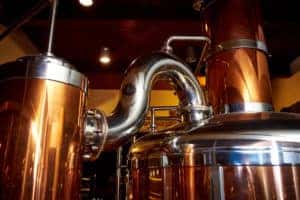 When you first stop by Fort Myers Brewing Company, you'll be welcomed with its friendly vibe. People are gathered inside along the bar and among picnic tables spread in the taproom. Spilling outside beyond its garage doors, there are additional tables where you can gather with friends and enjoy the Florida sunshine.
All are welcome at Fort Myers Brewing Company, so bring the whole family by or your 4-legged friend! They also have a variety of food trucks stop by as well as a variety of events to enjoy with others in the community.
Test your knowledge during trivia night, build up your thirst by getting a workout in with their running crew, or come enjoy a night of live music.
The Beer
Their friendly beertenders will also be able to help you choose from the range of beers they have on draft. No matter what beers you typically enjoy, they can help you pick out one you're sure to enjoy!
Gateway Gold: Just beginning your journey in exploring craft beer? Then try this light and refreshing golden blonde ale as the perfect gateway into the world of craft beer!
High 5 India Pale Ale: Fans of IPAs will want to make sure to give this one a try! As a previous Gold medal winner at the Best Florida Beer Competition, this hoppy and extremely drinkable beer comes with citrus and piney flavors bursting out of the glass.
Chocolate Peanut Butter Porter: Want dessert in a glass? This beer has a great combination of creamy milk chocolate flavors and peanut butter aromas for the adult version of your childhood favorites!
This is just a taste of what they offer on draft! Throughout the year, they rotate in other specialty ales and seasonal brews. If you skipped your morning coffee, the Start Early Stout is sure to wake up the taste buds. Their Pump-Q-Less is a fan favorite in the fall, which tastes exactly like a liquid pumpkin pie.
Other Delicious Beverages
They also have other amazing drinks that they make for those who prefer something other than beer. Their Spiked Seltzer provides a light and extremely refreshing option beyond their beers. They even offer it in a variety of flavors. Try their fresh-tasting Mojito, Lemon-Lime, or Pineapple Spyk'd next time you stop by the brewery!
Enjoy a Round at Fort Myers Brewing
Text your friends now to make plans to meet up at Fort Myers Brewing Company and enjoy some of the best craft beer around! Be sure to check out what events they have coming up, too!