Great Family-Owned Restaurants in Southwest FL

What's better than a night out to eat in Southwest Florida? A night out to eat in a family-owned restaurant! Check out some of our favorite family-owned restaurants in some of the best areas Southwest Florida has to offer.
Bema J's Bistro
Whether you're looking for a great American lunch, Italian-style family dinner, or a place to sing your heart out, Bema J's Bistro has it all under one roof. With traditional favorites, such as a Caprese Salad, Linguini and Meatballs, and Chicken Madeira, there's something for everyone's appetite here.
Did we mention you can sing your heart out here? Bema J's Bistro offers Karaoke Fridays, where you'll get to have great food, drinks, and channel your inner soprano. To learn more about this fun-filled, family-owned spot, give them a follow on Facebook!
Flapjack's Cafe
Residents and visitors of Southwest Florida know where to find the best comfort food for breakfast and lunch—Flapjack's Cafe in Venice! This family-owned and –operated restaurant treats every customer like family and takes the time to create delicious meals that will leave you coming back for more.
Breakfast at Flapjack's is served all day, every day, with lunch options beginning at 11:00 a.m. Some favorite options include breakfast sandwiches like The Jersey and The Corner Deli, or traditional selections like Fish & Chips or Belgian Waffles. Stay up to date with the latest news and menu options by following them on Facebook!
Howards Restaurant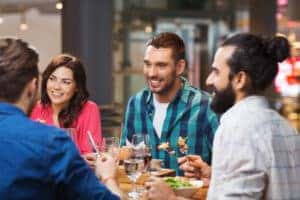 Established in 1955, Howards Restaurant has been a family-owned and –operated staple in the Southwest Florida area. Offering high-quality food and a fun, friendly environment, you'll find a casual, upbeat space that's warm and welcoming.
With a staff that offers excellent service and a menu that offers options for any palate, you'll be sure to find the ideal food and drink combination for anyone in your party. To find out even more about Howards Restaurant, follow them on Facebook today!
Visit a Family-Owned Restaurant in Southwest FL
With these great family-owned restaurants in Southwest Florida, you'll be sure to find meals for any time of day and any taste preferences. Book your reservation at one (or all) of these unique spots today!